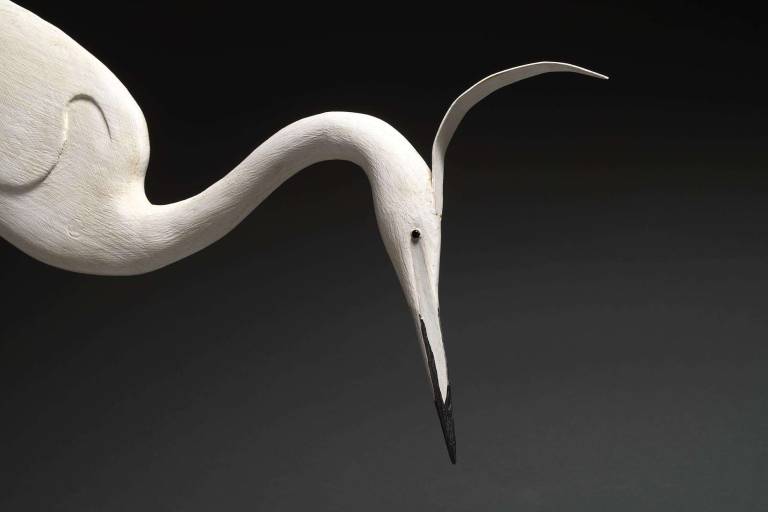 Stephen grew up amongst intensely artistic surroundings as the youngest of four children.  He is the son of renowned photographer and pop-artist Nigel Henderson.  His mother Judith was raised in and around the infamous Bloomsbury Group, as a niece of Virginia Woolf.  The family moved to the East Essex coast in the 1950s, with Stephen being born shortly afterwards in 1956.  Stephen's teenage years were spent shooting and fishing on the marshes, where he developed a keen eye for the movements and habits of wildfowl and fish.  Even today, the workshop and studio at his family home look out across those very same marshes, providing a constant source of inspiration.
The majority of Stephen's work is inspired by the native shorebirds and fish species found literally on his doorstep. Carving out of pieces of found wood and Eastern White Pine, he mounts his work on driftwood and natural weathered timber. Stephen recurrent themes include motherhood, courtship and predation, always trying to reflect the mannerisms of individual creatures and their personalities.
"Growing up in South-East England on the Essex Marshes, I developed a love of wildlife in general and of birds and fish in particular.  In my work I hope in some way to capture a gesture or attitude that will resonate with the viewer in the same way as it does for me.  I try to represent my own emotional response to my subjects rather than pursuing correct anatomical detail. The biggest influence on my work came from meeting Guy Taplin, and seeing his carvings at first hand in his workshop was a revelation. From my father, I learned to trust my own eyes and delight in the finding of discarded objects, but there were a lot of resonances here with the way Guy had been working.  Many found items became trophies in their own right, lifted off the beach or from a wrecked boat or building and given new significance."
Stephen shows at a number of galleries throughout the UK.  For the last two years he has been selected for inclusion in the "Birds in Art" exhibitions at the Leigh Yawkey Woodson Art Museum in Wisconsin USA.