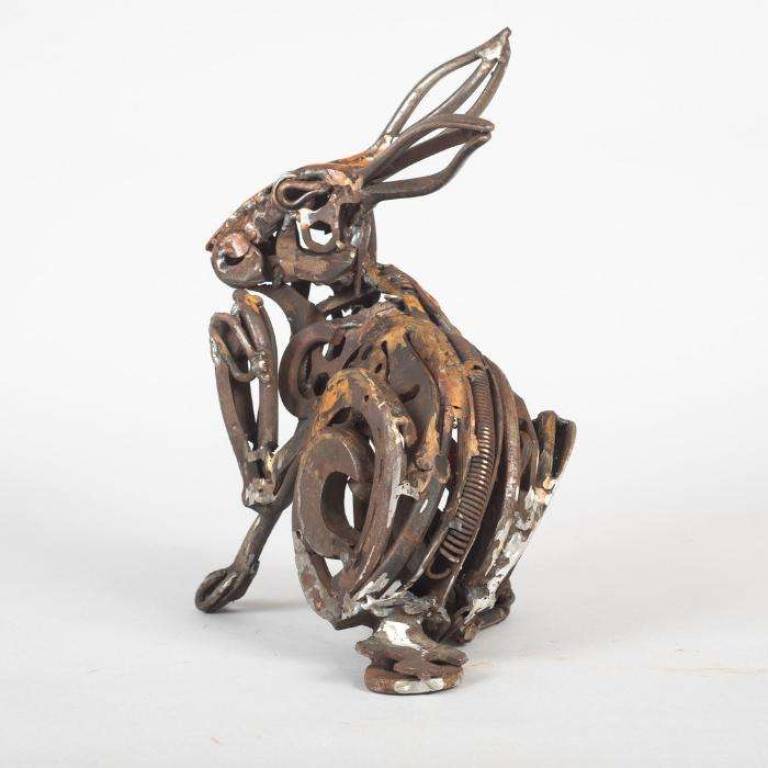 Harriet is the President of the Society of Wildlife Artists.  We love her work and are delighted that she has chosen Pinkfoot as one of the very few galleries to display her amazing 'found object' sculptures.
Harriet's work is inspired by a love of birds and animals.  From an early age she developed a keen interest in wildlife due to the influence of her late father, Chris Mead, who was a well known author and broadcaster.
Harriet has a Fine Art degree from the Norwich School of Art and lives and works in South Norfolk.  Harriet makes 'found object' sculptures using old agricultural tools and other discarded metal objects.  Welding allows Harriet to create work that has very few points of contact so that she can capture the movement of the animal in ways not possible in other materials. She aims to capture the essence of the animal and something of the quiet presence and form of her subjects.  Often her work will be inspired by a single item, like the old secateurs that became the beak of a life sized vulture.
'Finn' is a life size sculpture of her pet lurcher, some of the items used to make him include old springs, spanners and hinges as well as pairs of pliers for the ears, it captures the posture, strength and energy of the breed with incredible life-like accuracy.
Spanner Hare on Spade started with the old hoe neck that depicts the curve of the hare's back. Split pins are perfect for the eyes, with spanner heads for the muzzle and cheeks. Horseshoes help define the bulk of the legs and body. Old circular saw blades hint at the fur and the ears are made of various handles from pliers. The spade creates a perfect base to help emphasize the speed and movement of the hare and allude to the working of the land.