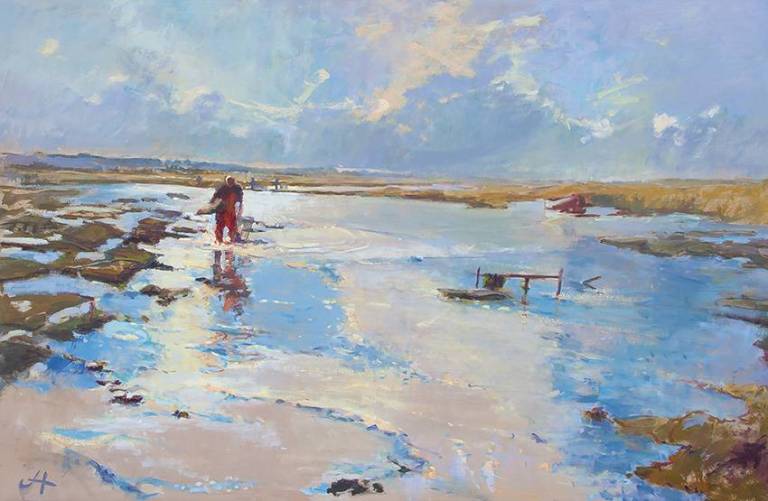 Jane was born in England to New Zealand parents, something that has informed her work, and meant she moved from London to Norfolk on her return from working in New Zealand in the 1980's. She says: " Every spring the light strongly reminds me of the sharp, bright NZ light. I stand outside and look at the clouds here in these wonderful, open skies, and have an echo of the huge clouds and blue skies in New Zealand."
After taking a BSc in Social Sciences ( art was a forbidden by her mother) Jane worked in NZ.  She firstly wrote and photographed the "Bay of Plenty Farmer" before moving on as a reporter to Radio 1XX.  Her partner bought a fishing boat and caught crabs in the Bay of Plenty (where kiwi fruit are grown) for sale to the Auckland islanders.  Her teenage experience of learning to drive an artic lorry in London came in handy for whizzing the catch up to Auckland at night.
This partly explains her preoccupation with painting the English sea and the workmen from North Norfolk, including the reedcutters and fishermen.  Jane paints outside and in all weathers.  This explains the immediacy and fluidity of her style.
On her return to England, Jane started a knitwear design business, which lead to her application to Gt Yarmouth College of Art to study fashion.  The application project was the drawing of hands – and the die was cast.  An immediate switch to the art course followed.
Jane has always kept up life drawing classes (with gaps for having three children and renovating an old house and huge garden). She had two successful group exhibitions in Norwich 17 years ago, but then put everything on hold because her second child was very poorly for years. (Jane now has three healthy children.)