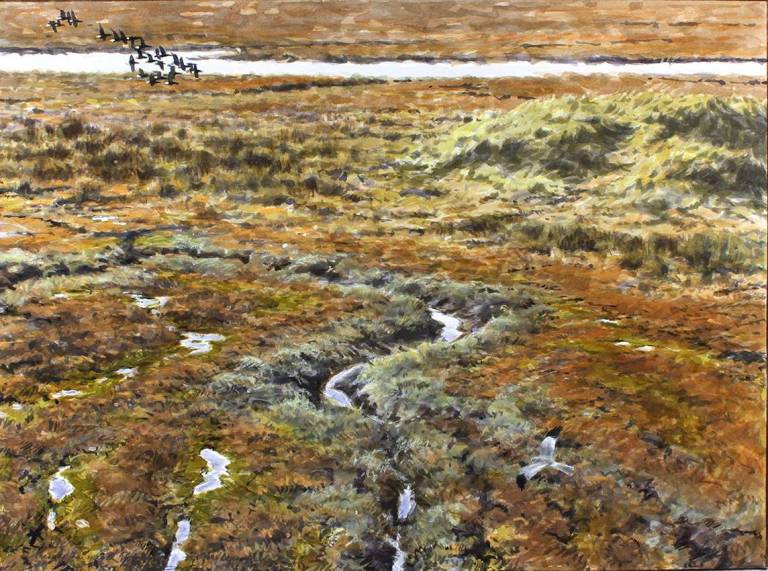 As a painter, printmaker and field naturalist Bruce has combined all three in a 30-year career as a full-time artist.   He has worked on a range of subjects and themes in the Arctic, Antarctica, West Africa, the Caribbean, and North and South America.  It is the rhythm and restlessness of the natural world that fascinates him, both in wild landscapes and places where people and human activity interact with habitats to create interesting themes. A painting might be completed directly in the field, while volumes of sketches and studies provide ideas and fresh starting points for painting and printmaking work in the studio.
Since the early 1970s Bruce's paintings and prints have been widely exhibited in the UK and overseas in many group and solo exhibitions. He has won awards for his work, most recently the GMAC Commercial Mortgage Europe Art award at the Society of Wildlife Artists 2005 exhibition at the Mall Galleries. He has been president of the Society of Wildlife Artists (1994 – 2004) and recently joined the board of the Artists for Nature Foundation.
Prior to that much of Bruce's work was largely as a freelance illustrator on a wide range of natural history books, magazines and journals, including writing and illustrating An Artist on Migration, one chapter of which – centered in West Africa – was subsequently filmed and shown on BBC2 television in a programme (Beyond Timbuctu) that he presented. For the past 10 years Bruce's work has largely involved private commissions from individuals, museums and institutions; and by invitation from the Artists for Nature Foundation (ANF). Bruce has participated in international art events and exhibitions around the world.