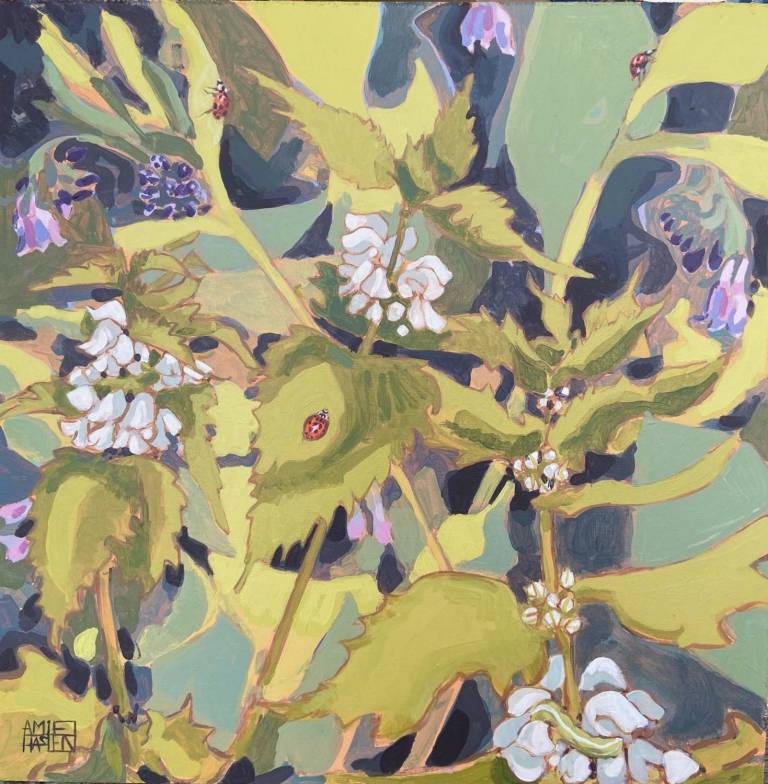 Amie Haslen is a painter and printmaker, based in Suffolk.  Born in 1991, Amie spent her childhood surrounded by artists, with artistic parents running a local gallery. In 2013, Amie graduated from Aberystwyth University, where she studied Fine Art, specialising in Printmaking.  She still visits Wales regularly to draw and to paint. Amie's work is inspired by local and Welsh landscapes, creating vibrant snapshots of rural scenes, drawn in by the striking shapes of nature.
All the views that I have chosen to depict in my work are locations that are meaningful, in terms of identity and sense of place.  They are places I have known well, discovered and love dearly.  I like to depict the beautiful patterns of landscape and the dramatic shapes that, especially, I see in trees and clouds.
Always starting with drawings made on location, my paintings and prints are planned and built up through layers of colour.  The prints are developed through a combination of relief printing, wood engraving and lithography techniques.  The inherent qualities of my materials are exploited to create dramatic and expressive images.  For example, I chose to include some knots in the wood when producing woodcuts or allow touche or watercolour to reticulate (form patterns) as it dries.
At University I specialised in printmaking, concentrating on woodcuts and lithography, sometimes combining the two.  From the graduate show, I was selected to exhibit in 'Graduate 13', an exhibition at the Millennium Centre in Cardiff.  Since then I have taken part in several exhibitions and regularly show my work in a selection of galleries in East Anglia and Wales.
My most recent inspiration has come from my passion for gardening, especially growing succulents.  I love the odd shapes these plants create and I like to group them together in unusual pots with other strange objects to make intriguing compositions to draw from.